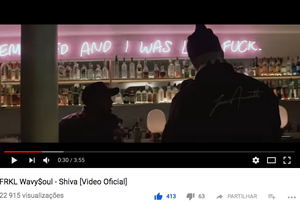 5 Minutes With Artist Wavy$oul Interview
What is the one thing you could tell your 16-year-old self?
Everything happens for a reason, just stay focused and life will reward you.

What is the most treasured item in your wardrobe?
Vintage Nike jacket purple white and mint.

What song or album could be the soundtrack to your life and why?
"Everybody loves the sunshine" Roy Ayers, it just makes me feel alive, IDK.
What are the three things that you would save from your house in a fire?
Trainers hats and phone.

If you could invite five people - living or dead - to the ultimate dinner party, who would they be and what would you serve?

Kurt Cobain, Erika Baduh, BB King, Sade and Jill Scott. I would serve whatever, defo weed and honey Tennessee included.
You're regularly spotted in remixed fashion/streetwear, besides Jesus Amoretti, what are your favorite brands to mix up?
Trasher, Supreme, Nike, adidas, reebok, Champion, Calvin Klein, North Face, Columbia, etc.
Where is your favorite place in the world and what makes it so special?

My grandma's house, because she's my queen!
What was your life goal aged 10?
Be the craziest kid in school & streets.

And what is now?
Be focused, improve every day as a person, spiritually & physically. Record as much music as possible.
What is your favorite piece of clothing from the Jesus Amoretti collection?
Black Bomberjack.
Are you still mad at not having a customized one?
I am! laughs*
We promise a surprise for your next video. Stay blessed and keep up the good work.
Thank you! Done now.
---