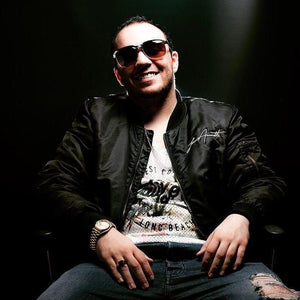 5 Minutes With El Most Wanted DJ LEVERAUX Interview
Tellis, we know it has been a great journey for you as a DJ since you moved to London to chase your dreams, tell us a bit more about yourself and how did that happen?
Hey, I'm from Greece originally I was born in Germany and grew up there. When I was 8 years old I moved back to Greece with my family. London hah... I was sitting on the beach in August 2015 when I've got a call from my guy and he told me I have three countries to go as an option, London, Miami or Germany. We discussed all the options and we ended up in London the month after!
That's really great! Your style is very authentic, who are your mentors in the music industry?
I started going to clubs and watching DJs from an early age, many names inspired me, I used to go live concerts and watch them play and then practice on my own, that became a routine to me and now my lifestyle.
People that I appreciate in the industry and really glad I met them are DJ Jamielisa she was the person that gave me the chance to spin at STK, Check her out she is doing big things right now. A crazy situation was with DJ Rapture he dropped me 3 years ago a shout and last year I met him randomly in London he is the guy and a real friend! DJ Sai is also a person that I met this year and I'm really happy to have him as a friend, we gonna play in Marbella this summer together which is something that I always wanted and DJ Jojo, one of the best if not the best DJ I know in London and look up to work with.
We know you have many gigs in some of the hottest clubs in London, which ones are your favorites?
I would say STK and L8 Club, the vibe in there is just really Dope! Elysee is also in my heart, is a Greek Bar/Restaurant where I played many times, all in central if you in town you must visit them.
Where would you like to perform if you could pick and choose?
I would love to perform at wonderland Festival FOR SURE, that's a dream to me! Glastonbury... of course! that's mandatory! Roundhouse, Ministry of Sound, Fabric and obviously my so loved Mayfair clubs like Tape, Libertine, Toy Room, Cirque le Soir and The Box.
We know you are a very good producer, what was the best track you worked on so far?
Definitely "Montana" Featuring Jesus Amoretti, that's my premium masterpiece, 100%, just waiting for the right conditions to rerelease it. When the time comes you will know :).
Who would you like to collaborate with?
Drake, Jay Z, DJ Snake, 50 Cent, DJ Khaled, Rihana and Skepta.
Any upcoming releases soon?
Yes, I'm working on a few new tracks, which may be released in two months time, one of them will be a Marbella anthem, pretty hot track though, is all I can say.
How did your connection with Jesus Amoretti arise?
Randomly I found him on SoundCloud and send him a message we met, clicked and boom! Jesus is like a brother to me, we've been through good and bad situation together and we always kept the faith. Much love.
Do you like more his music or his clothing designs?
Gotta say both, he is very talented at everything he puts his mind into, can't take sides on this one, and is all connected anyways, it's a blessing for me to be part of the Team.
If your fans want to listen to your music, where is the best place to find it?
On SoundCloud @djleveraux.
Who are the most important people in your life?
My family and a few friends/partners that I work every day to achieve the goals we have in common!
If you could not be a DJ what else would you do?
I would probably work fulltime at Apple as an engineer which is something I do already as part-time in the morning.
What's your favorite piece of our collection?
The Bomber Jacket! I have it on every time I spin though, Love it!
Greatness my friend, always a pleasure to catch up with you. To finish our conversation, would you like to send some shout outs to your main Bredrins?
Sure, shout out my brothers George, Jamelisa, Jesus, Sai, and Rapture. Thank you for having me!
---