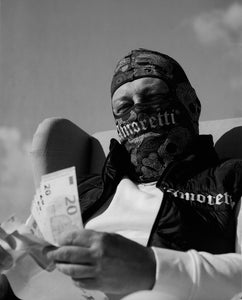 Discover the Life Story of Artist Armario Nagaaz and his latest Videoclip of the theme "Reflexo"
Bruno Ferreira known as Armario Nagaaz was born and raised in Alcântara since June 9, 2001.
At the age of 4, after both parents were arrested, he was taken care of by his sister who raised him until he was 12 before going to school where he left at 14.
It was at this time that he was introduced to rap by the hand of Xeg, who was his mentor in rap workshops.
He recorded his first song at the age of 15, which he called "Mudação" and became a father at 16.
At the end of August 2021, he exchanged his first ideas with his producer and in the meantime he woke up and joined Waveblock Records.
Currently 21 years old, he is serving a prison sentence and even though he is prevented from being on the streets, he decided to join the pieces and forces to release his first single "Reflexo" produced by Vulgare Beatz, distributed by WaveBlock Records, filmed and edited by SixStudios with the assistance of Tomás Diniz and interpreted by his Father " Armario Sénior " who made an impeccable interpretation, considering that it was his first time in front of a camera, we were once again in charge of taking care of the equipment aka fatuta Amoretti to compose the situation the way the family deserves.
With this theme the artist intended to illustrate his way of reflecting and transmitting his feelings to his listeners.
Photos by : Martim Diniz
---