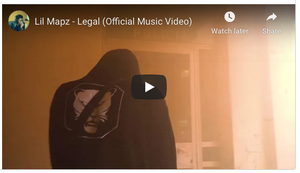 Lil Mapz - Cool (Official Music Video)
Known as "Lil Mapz" or "Mapiicky", he is a young man from the Sintra Line in the Rap movement since 2012, where his side has always been the Dirty South/Trap style, one of the pioneers in his generation when it comes to Trap Culture in Portugal , launches his first mixtape of Trap in 2013, with influences from Chief Keef, Lil Durk, Gucci Mane, Lil Mapz in 2015 he released "Trap Lord" which features sound names in music today such as "Apollo G". Lil Mapz is already on his seventh project and promises to continue leaving his mark on Trap/Rap in Portugal.
The video clip for the theme "Legal " by our team artist @lilmapzofficial is now available on YouTube and on our IGTV channel @jesusamoretti .
You can find more information about the artist on his instagram page @lilmapzofficial.
Until then, watch the latest video released:
---