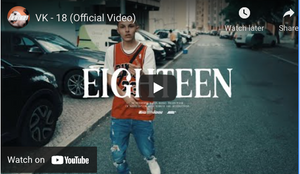 VK-18 (Official Video)
I'm VK, 18 years old, Tuga and I came to mark my place in the industry with my sounds in English, although I already have some sounds with a bit of Portuguese to come.
I've been coming and going from the UK since I was two, that's why I speak fluent English, because I learned both languages ​​at almost the same pace.
I started with UK drill, as it was with this genre that my group decided to start launching themselves in the UK under the name of YSF, in January 2019. Since a freestyle I had with them, they started encouraging me to start make music and write seriously, that's what I did and nowadays I have a great passion for music.
I'm new, I've been through a label in the UK, something that many people don't know, but I had to come back here, and that meant that I couldn't stay on the label, but since then I've worked on my solos, I've worked on other types of sound, like rap, afroswing, trap etc…
It evolved a lot in a year and with the help of Vlone975 I managed to be introduced to the tugas with a song that we released on October 25th, with the title "Ben&Jerry's", then more opportunities arose and since then I have been more hungry to make more bangers. Since then I have launched the "NBA", "X Factor", "Cold Hearted" Ft. FP, "Drop Out Freestyle" with Pratik Thakarshi, "Gotta Go" in collaboration with Bvdz Records, "Affiliates Freestyle (YSF x PDM)" with Nomad and now my latest single "18".
I like to make sounds with more vibe, and that make people jump, but sometimes I also like to send sounds in which people hear parts of my story, where I came from, how I was raised etc…
---